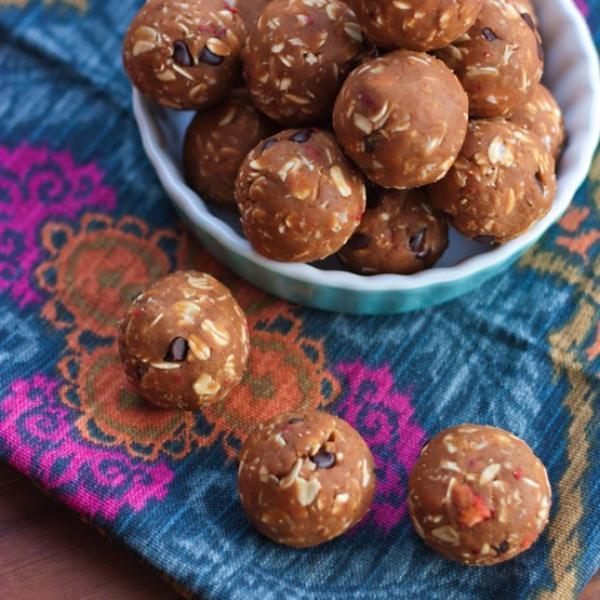 Looking for a healthy snack for the golf course? - I've recently discovered how easy it is to make this No-Bake Peanut Butter Protein Bite - and how great it helps me feel and perform! Take a peak at this 5 minute short video post.
For your next great round... or anything else you love to do outdoors when you need a little pick-me-up!
My No-Bake Peanut Butter Protein Bites
Makes 18 energy bites
Ingredients:
1 cup/250 mL large flake oats
2 scoops vanilla protein powder
½ cup/125 mL creamy peanut butter
¼ cup/60 mL unsweetened applesauce
1 Tbsp/15 mL unsweetened applesauce, more if needed
2 Tbsp/30 mL honey or maple syrup
2 Tbsp/30 mL mini chocolate or carob chips
2 Tbsp/30 mL flaxseed meal
Method:
1. Place oats, protein powder and chocolate chips into a small bowl and stir to combine.
2. In a separate bowl, mix together the peanut butter, applesauce and honey. Pour the wet peanut butter mixture of the dry mixture and stir well. Combining this mixture will take a little stirring power and it may seem a little crumbly at first. You can use your hands to knead the dough near the end. If it's too crumbly, add an extra Tbsp applesauce to moisten it.
3. Once combined, start forming the dough into small balls.
4. Store in a covered container in the fridge or freezer.
Nutrition info: /energy bite
94 calories 5 g protein 5 g fat 9 g carbohydrate 1.5 g fibre 36 mg sodium