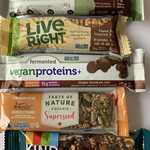 Have you ever wondered how you can use good nutrition to set yourself up for success on the go? Whether you play a round of 9 or 18 holes or are heading out for a long hike, prepare yourself with the right fluids and healthy snacks to feel your best.
Here are some great ideas for fluids and portable healthy snacks no matter what lies in front of you:
Tips for fluids:
Bring enough water you can sip on throughout your hike, activity or round
If you're not a big fan of water, a diluted 100% juice (½ water, ½ juice), coconut water or a sports drink could be used. There are many versions - with and without sugar. For sports drinks, rinse your mouth with water after drinking when possible as it contains sugar and acid that can wear down the protective enamel in your teeth and cause tooth decay.
NOT appropriate - An energy drink, pop, or full-strength juice (carbonation/too high in carbohydrate, may contain caffeine) All of these don't bode well for performance.
Feel free to make your own homemade sports drink: Combine 60 mL (1/4 cup) maple syrup, 1 mL (1/4 tsp) salt in 1 L (4 cups) water.
Tips for healthy snacks: What do you look for?
easy to digest
portable
easy to eat- something that doesn't get all over your hands
contains carbohydrate (for energy)
low in fat (easier to digest)
moderate protein (helps sustain you)
enjoyable to you
Here are my top 10 healthy snack choices: (try out different combinations to see what works best for you)
Mixed nuts preferably unsalted– raw unsalted almonds work well, but any nut or seed will do – put about ¼-½ cup nuts into a plastic reusable container or baggie. Tip: if you prefer salted nuts or seeds try adding some salted and unsalted together (this helps from a taste profile, but also supplies some sodium- good if you tend to sweat a lot on a hot summer day
Mix of nuts/seeds and dry cereal: Add some walnuts, pumpkin seeds and dry cereal like plain Cheerios® or Shreddies® for a portable easy-to-consume healthy snack that has a bit more carbohydrate.
Fruit – great for hydration, crunch, and ease – choose fruits like grapes, banana, cut-up apple, cantaloupe, pear. For fruit that you need to cut up – place in a reusable plastic container and include a cooler pack. This will keep it tasting its best.
Vegetable snacks –mini cucumbers, grape tomatoes, carrot sticks or pepper strips work well for those wanting to have something to 'crunch'. Easy, portable low in calories, and high in water.
PB sandwich- peanut butter and honey (or jam) sandwiches on a whole grain bread are easy and portable and help sustain you. Cut them into quarters for ease of eating and place in a plastic reusable sandwich container. Even in the heat, these do last really well, although on the hottest days, use an insulated lunch bag with a small cooler pack. Another nut butter or seed butter would work equally well.
Tuna or Egg Salad sandwiches can also work well in this situation, but a cooler pack is a must for food safety!
Roasted Chickpeas (or other legume) – homemade or purchased – these are portable, crunchy, tasty, nutrient dense snacks. Check out this recipe for roasted chickpeas or this recipe or try a purchased crispy chickpeas like The Good Bean or 3 Farmers (roasted fava beans, peas, lentils or chickpeas in a variety of cool flavours). Combine about ¼ -½ cup into a reusable container for easy portability.
No-bake energy bites – these are my new favourite golf snack. They contain oats, a nut butter, protein powder, and flavour – and you can make all kinds of modifications – check out my recipe and blog post here. Make some smaller ones as these may be easier to eat. Pack a few in a baggie or container in your golf bag. A cooler pack works well for those really hot days too, so they don't get too soft. I often make a batch and keep them in the freezer so they are ready to go.
Homemade protein or granola bars: You can easily make your own granola bars– and tailor it to your preferences – since you can alter the dried fruit, nuts or seeds used in the granola. You can also change the flavourings. Here's a few great recipes , recipes or make your own granola and use in a recipe.
Purchased protein, energy or granola bars: Look for a short ingredient list (especially ingredients that you recognize!) If the protein content is 8g or more or the bar is large, cut it into smaller bite size pieces. Look for the words: Whole grains (like whole oats) or a protein like whey or rice protein as the first ingredient rather than sugar. Look for bars with 3 g fibre or more, and less added sugar. Natural sugars from dates or figs are actually good in an energy bite or bar as they provide needed carbohydrate along with vitamins and minerals. Look for whole foods ingredients in Lara bars, Rx bars, Real Food Bar, Nomz, or Naked Bars. As well some great plant-based energy bars include: Simply Protein, Live Right, Fermented Vegan Protein, Taste of Nature and Kind bars. Some good granola bars include: Made Good, Enjoy Life chewy bars, Nature's Path, Love Crunch and Kashi bars. (not sponsored)